---
ALONEWITHME.AI
2020 /

DEEPFAKE / WEBGL / MACHINE LEARNING
ROLE
CREATIVE DIRECTION
CREATIVE LEAD
CLIENT
SPOTIFY
THE WEEKND




︎︎︎

A personalized generative experience powered by deepfake, machine learning and your Spotify listening data.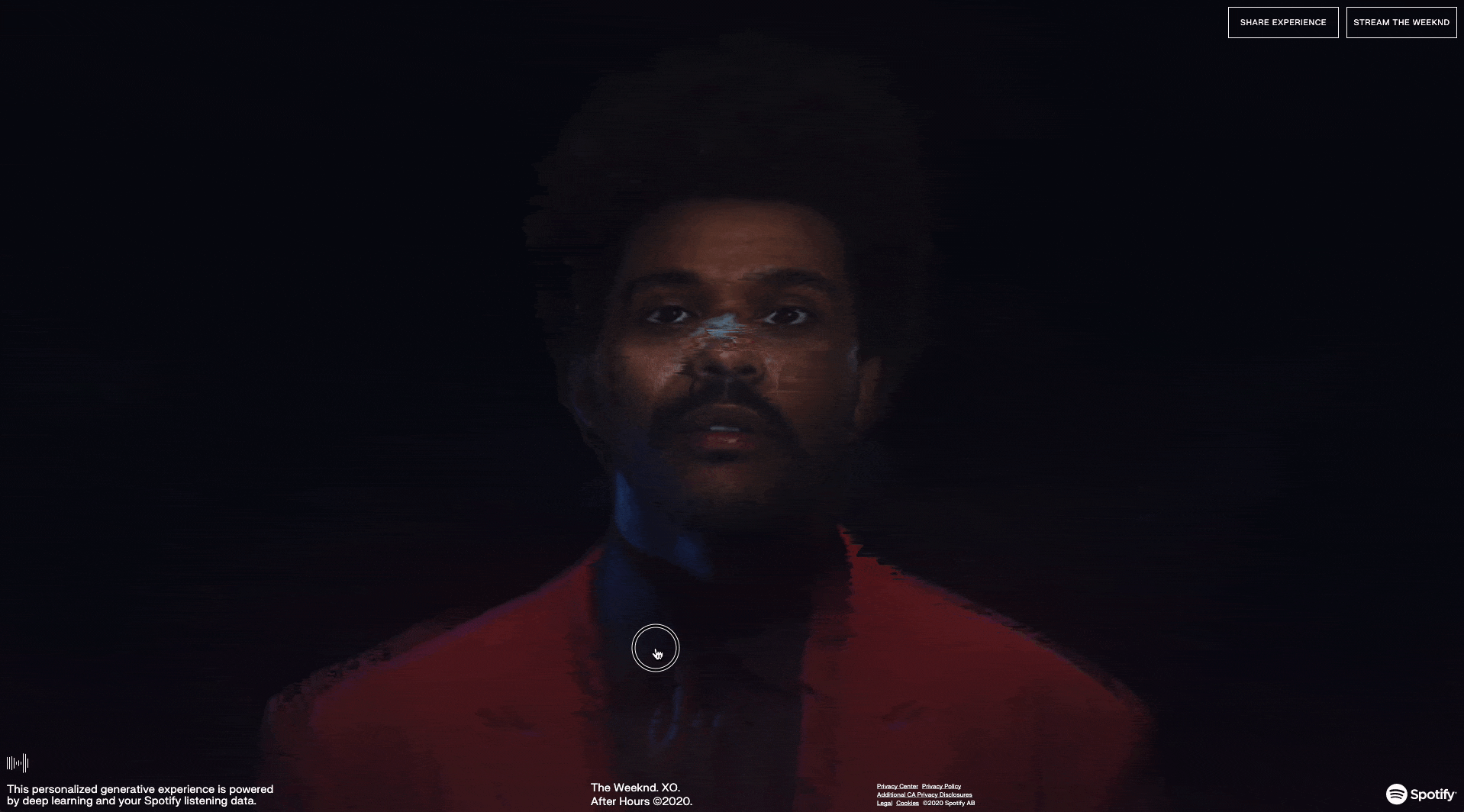 Concepted at the beginning of Covid, virtual experiences, and social isolation, comes an intimate listening experience with The Weeknd for his fans.

The Weeknd had just launched his new album and cancelled his tour due to the pandemic. We wanted to create a connection between the artist and fans by having The Weeknd commenting on their personal listening habits, and talking with them.






Get the invite from The Weeknd through socials or the Spotify app to enter the experience.


I managed our team across
6 countries / 8 cities / 6 timezones / and launched in 6 weeks while fully remote 🚀️
I directed Jam3's first fully remote shoot and new production with our production partner in Montreal.

With remote shooting and deepfake video, combined with AI-powered audio, we created a digital version of The Weeknd. With limited footage and using webGL, we pushed technology to its limits to bring a unique experience for every user that has listened to The Weeknd on Spotify, in a way that has never been done before.



1x One Show — Best of Discipline
7x One Show — Gold
1x One Show — Silver
3x One Show — Bronze
1x Cannes Lions — Gold
1x Cannes Lions — Silver
1x Cannes Lions — Bronze
6x ADC Awards — Gold Cube
1x ADC Awards — Silver Cube
3x ADC Awards — Bronze Cube

1x D&AD — Graphite
1x D&AD — Wood
1x ADCC — Bronze
1x FWA FOTD
1x Awwwards — SOTD
1x Awwwards — Dev
1x Webby
1x Adweek — Best of Experimental
1x Adweek — Honored
1x Clio — Shortlist


🖤️ THANKS
ECD
Adrian Belina
/
CREATIVE
Branko Jass, Diego Tramontin, Rodeo
/
PRODUCTION
Greg Benedetto, Ryan Kelly, Greg Meltzer
(EP)
/

TECH

William Chen(TD), Iran Reyes, Jacob Jang, Fran Abal, Mathis Biabiany, Edgard Zavarezzi